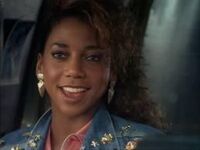 Judy Hoffs was the smart member of the 21 Jump Street team. Since she was the only member of the team who went to college, Hoffs would also be the only one to be made detective. Hoffs had to conquer many prejudices as a black woman in the force. This resulted in a work ethic that forged a bond with both Captains Jenko and Adam Fuller. She also forged partnerships with white members of the force such as Doug Penhall, and in general all the members of 21 Jump Street valued her as she was a dependable member, and in turn she could depend on them in dangerous situations. She knew the importance of her assignments and often found herself personally involved in cases of rape, racism or sexual harassment (like going undercover as a teen model to bust a prostitution ring in Episode #12: "16 Blown to 35"). She was the only original member of the Jump Street unit that was there until the end of the show.
Behind the Scenes
Edit
*She was played by Holly Robinson, who had been a singer prior to being cast on the show. In addition to her role as Hoffs, Holly Robinson also sung the show's theme song in the opening credits.
*She had been spoofed as "Duty Huffs" in the MAD Magazine parody of the show, and served as the basis for the protagonist "Judy Hopps" in the Disney movie Zootopia.