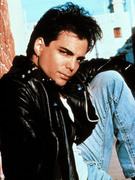 Dennis Booker is a character from the 21 Jump Street show.  
He was potrayed by Richard Grieco.
Grieco resprises his role for a cameo during the end credits of 22 Jump Street in the mock sequel entitled Jump Street: Generations.
The sequel also stars Dustin Nguyen (who portrayed Harry Truman Ioki on the TV series) although he only appears on the poster.
Nguyen, however, did have a cameo as Vietnamese Jesus during Jenko and Schmidt's WHYPHY trip where he appeared on Jenko's "good" side of the trip. 
In 1989, Dennis Booker became the main character of the TV series Booker, a spin-off of 21 Jump Street.
Dennis explains why he doesn't like Chinese food,why he has a scar on his knee and what his nickname was as a kid in the 21 jump street episode: Nemesis
He said it's because he "found a worm in a egg roll."
His nickname when he was a kid was :Joe Cool
He got the scar on his knee from falling off his bike.
He is often smoking cigarettes throughout the 21 jump street show,although he claims he's been trying to cut back.
He and Tom Hanson often don't get along and are constantly arguing.
Dennis once went undercover as a radio host in the 21 jump street episode: Next Victim
Gallery