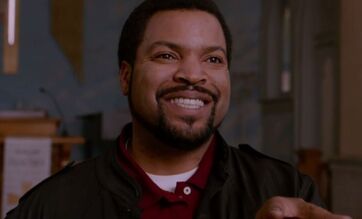 Captain Dickson is the overall deuteragonist of the 21 Jump Street movie franchise, serving as the deuteragonist of 21 Jump Street and 22 Jump Street.
He is played by rapper and actor  Ice Cube. Captain Dickson is the leader of a police force named Jump Street, which specializes in sending young adults back to different schools to investigate crimes.  He also has a daughter named Maya, who Schmdit briefly dated. Dickson also has a wife, who was portrayed by Queen Latifah.
Personality
[
]
Dickson is a very comically aggressive guy, as seen in 21 Jump Street when Jenko and Schmidt weren't making any progress with their assignment and in 22 Jump Street when he finds out that Schmdit is dating his daughter. Dickson is however hard-working and takes his job as a man of the law seriously even though he may not always act in the most professional manner. Dickson describes himself as "An angry black captain, Typical stereotype." although he just happens to be a black man who works hard to be the captain. As a result, he can get angry on the job.
Trivia
[
]
While unknown if this was actually intentional, Dickson does share a lot of similar features to Captain Fuller from the original show. He is basically a comedic version of that character.
Apparences 
[
]