(One intermediate revision by the same user not shown)
Line 10:
Line 10:
 
 
 

==Cast and Characters==

 

==Cast and Characters==

−

:''A list that contains all characters can be found [[:Category:21JSCharacters|here]].''

 
−

===Current Main Cast===

 
 

<br /><gallery orientation="portrait" position="center" align="top" spacing="small" captionalign="center" hideaddbutton="true" captionposition="within" bordersize="none">

 

<br /><gallery orientation="portrait" position="center" align="top" spacing="small" captionalign="center" hideaddbutton="true" captionposition="within" bordersize="none">

 

Hanson SeasonUnknown 1.jpeg|[https://en.wikipedia.org/wiki/Johnny_Depp Johnny Depp] as [[Tom Hanson]]

 

Hanson SeasonUnknown 1.jpeg|[https://en.wikipedia.org/wiki/Johnny_Depp Johnny Depp] as [[Tom Hanson]]

Line 24:
Line 22:
 

File:Richard-Grieco-03.jpg|[https://en.wikipedia.org/wiki/Richard_Grieco Richard Greico] as [[Dennis Booker]]

 

File:Richard-Grieco-03.jpg|[https://en.wikipedia.org/wiki/Richard_Grieco Richard Greico] as [[Dennis Booker]]

 

</gallery>

 

</gallery>

−
 
−

===Casting Technique===

 
 
 
 

==Episodes==

 

==Episodes==

Line 38:
Line 34:
 

{{21JSDVDReleases}}

 

{{21JSDVDReleases}}

 
 
−

==Music==

+

==Music==

−

{{MainArticle|Music in Grey's Anatomy}}

 
−
 
−

===Main Theme===

 
−

The show's main title theme

 
 
 
 

==Notes and Trivia==

 

==Notes and Trivia==

Line 51:
Line 43:
 
 
 

==Spin-offs==

 

==Spin-offs==

−

===Booker===

+

===Booker===

 

Booker is a spin-off series featuring 21 Jump Street character Dennis Booker as he navigates

 

Booker is a spin-off series featuring 21 Jump Street character Dennis Booker as he navigates

 
 
---
Latest revision as of 21:20, 7 May 2021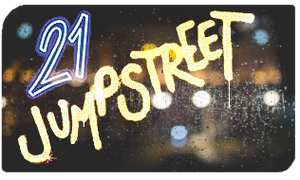 21 Jump Street (TV series) is an American police procedural television series that aired on Fox from April 12, 1987, to April 27, 1991, during which time produced 103 episodes. The series focuses on the 21 Jump Street crew, a group of youthful-looking undercover police officers who infiltrate high schools, colleges, and other teenage venues to catch (oftentimes) young criminals. It was originally going to be titled Jump Street Chapel, after the deconsecrated church building in which the unit has its headquarters but was changed at Fox's request so as not to mislead viewers into thinking it was a religious program.
Created by Patrick Hasburgh and Stephen J. Cannell, the series was produced by Patrick Hasburgh Productions and Stephen J. Cannell Productions in association with 20th Century Fox Television. Executive Producers included Hasburgh, Cannell, Steve Beers and Bill Nuss. The show was an early hit for the fledgling Fox network, and was created to attract a younger audience. The final season aired in first-run syndication mainly on local Fox affiliates. It was later rerun on the FX cable network from 1996 to 1998.
A spin-off series, Booker, was produced for the character of Dennis Booker (Richard Grieco); it ran one season, from September 1989 to June 1990.
DVD Name
No. Eps.
Release Dates
Region 1
Region 2
Region 4
The Complete First Season
13
October 26, 2004
(re-release: January 19, 2010)
January 31, 2005
September 7, 2006
The Complete Second Season
22
March 8, 2005
(re-release: May 18, 2010)
June 20, 2005
September 7, 2006
The Complete Third Season
20
September 6, 2005
(re-release: July 27, 2010)
January 23, 2006
September 7, 2006
The Complete Fourth Season
26
November 1, 2005
(re-release: January 18, 2011)
April 10, 2006
September 7, 2006
The Complete Fifth Season
23
March 21, 2006
September 18, 2006
June 7, 2007
The Complete Series
103
July 27, 2010
March 5, 2012
September 18, 2020
May 1, 2013
The characters on
Booker is a spin-off series featuring 21 Jump Street character Dennis Booker as he navigates
Community content is available under
CC-BY-SA
unless otherwise noted.